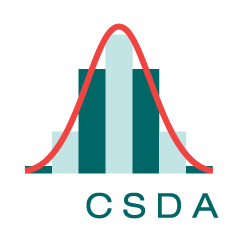 The CSDA offers statistical consulting for EMBL scientists. This includes help with the choice of methods, advice on software troubleshooting, feedback on data quality and soundness of inference, and statistical review of manuscripts.
Get advice
To get advice, you can
Book a session
You can book consulting sessions with Sarah.
Please make sure to prepare your question. During the booking process, you'll be asked to complete some questions regarding your project, before you can book a slot.
The meetings can take place either in person (EMBL Cafeteria, Heidelberg) or via Zoom.
Bookings are open to researchers from all EMBL sites.
EMBL chat
For smaller questions, feel free to use chat.embl.org. You can
Preparing for a session
In your own interest, please prepare the consulting session, so that we can use the limited time to focus on your problem, rather than clarifying the background.
Please bring the following:
A short and clear summary of the biological background and the experimental set-up. This can be on slides, or on pen and paper. Visuals are much appreciated.
Your biological (not technical!) research question.
An overview of your data in tidy format.
See here for more information.
See also