The Bio-IT Project aims to achieve its objectives through activity in four areas:
Find out more about our activities and the resources available by reading in the sections below.
Bio-IT Mission
To provide EMBL-HD with a platform for information and discussion about bioinformatics and to promote networking amongst its diverse bioinformatics user community.
The computational biology community at EMBL Heidelberg is growing steadily and rapidly. This is a reflection of EMBL's position at the forefront of cutting-edge data-driven research, but brings with it some challenges. The Bio-IT project is a community initiative, which aims to build, support, and promote computational biology activity at EMBL Heidelberg. The objective is for community members to help each other conduct their research, and to share their skills, experience, and tools with others.
Training & Consulting
Bio-IT organises and delivers internal and external training courses aimed at novice computational biologists and more experienced users. Most of these courses are free to attend for EMBL members and are often open to external participants for a nominal fee. You can see a list of upcoming courses here and access existing course materials here. Most of our courses are taught by members of the community, who volunteer their time to share their knowledge and skills.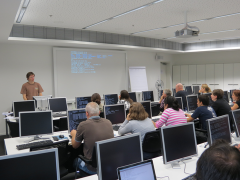 The Bio-IT Project supports these volunteers by helping them with design of teaching material, organising venue, catering, etc for the course, handling advertising, registrations, and collecting feedback afterwards. We are always happy to welcome new volunteer instructors, whether they are interested in teaching a new subject or using some of our pre-existing material. Please contact us if you would like to discuss providing a new course or workshop.
In addition to these training efforts, we provide advice & consulting on computational biology, software, and resources at EMBL. Bio-IT Drop-In Sessions run every Tuesday morning in the cafeteria, 10-12, and you can contact Renato Alves or Lisanna Paladin any time.
Bio-IT and The Carpentries
Several of our past and current community members are also active members of The Carpentries, as certified Software Carpentry and/or Data Carpentry instructors. We deliver Software Carpentry and Data Carpentry workshops annually at EMBL and have also hosted Carpentries and Elixir Instructor Training workshops in Heidelberg.
Community
Bio-IT strategy and operations are discussed bimonthly by the Bio-IT Taskforce, a collection of stakeholders in computational biology from across the research units and core facilities at EMBL Heidelberg. At these meetings, members raise topics for discussion that concern computational biology and the community. Example outcomes include new topics for training courses, consultation on new services and resources, and collaborative development of new tools.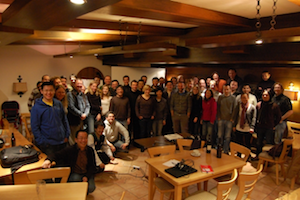 Bio-IT also organises Beer Sessions, with a technical focus. These events are intended to encourage discussion (over refreshments!) of a central theme of general interest to the computational community. The first event of this series took place in June 2016, on the subject of using the features of EMBL's GitLab system for collaborative projects.
We have been hosting annual "Thank You" barbecue parties since 2018, to acknowledge the contributions of our community members. In 2019, we held our first CollaborationsFest in conjunction with this barbecue event, providing community members with an opportunity to get together and collaborate on a variety of different projects to develop tools and resources.
The computational biology community at EMBL Heidelberg has an annual retreat, at Hotel Saigerhöh in recent years. The retreat is an opportunity for community members to better get to know their colleagues and the work that they do, to think beyond the science of their project work, and even to enjoy some winter sports in the nearby hills.
Several members of the Bio-IT community are also active contributors to the Heidelberg Unseminars in Bioinformatics (HUB) series. HUB events are alternative format meetings of people from Heidelberg and the surrounding area, who share an interest in computational biology. These events are informal, with a strong social focus based around group activities and avoiding the same old "one speaker, silent audience" seminar format. Topics of recent events have included Jupyter notebooks, biocuration, and visualisations of biological data (in association with the VizBi conference 2016).
Tools & Resources
Several tools and resources that improve computational biology capability at EMBL Heidelberg have grown out of the Bio-IT project. These include a shared library of software available across EMBL's various compute environment, the GitLab version control/project management system, and the internal chat system, chat.embl.org.
Contact
For any questions relating to the Bio-IT project, please send an email to bio-it@embl.de or contact Renato Alves or Lisanna Paladin directly.